Study in Australia Requirements

To study in Australia you'll need to apply for both admission to an institution and also for a student visa from the Australian Government.
1.English language requirements
In some cases, you may need to provide results of an English language test. Be aware that the English language skill level required by an institution can be different from the level of skill required for your student visa application. You should carefully check student visa information on both the Department of Home Affairs.
2. Academic requirements
The academic requirements (including evidence of English language skills) you need to study in Australia will vary depending on the level of education you want to study. Institutions can have different entry requirements, so read the course information on their website carefully and contact them to ask for advice. Tip: To meet the academic requirements of an Australian high school qualification, consider taking a Foundation course. Also called bridging study, they are intensive courses that will help you meet the entry requirements. They are usually one year long and are offered by most higher education institutions.
3. Visa requirements
Issued an electronic Confirmation of Enrolment (eCoE) certificate
Meet the Genuine Temporary Entrant requirement.
Sufficient funds for airfares, course fees and living costs
English language proficiency.
Meet health and character requirements.
Acceptable Overseas Student Health Cover (OSHC).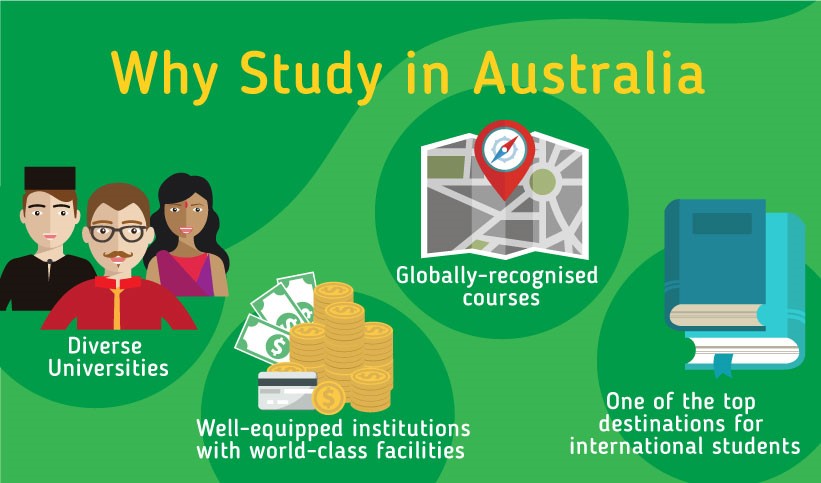 4. Overseas Student Health Cover
Australia has a special system of health cover for international students called Overseas Student Health Cover (OSHC). It will help you pay for medical or hospital care you may need while you're studying in Australia; it will also contribute towards the cost of most prescription medicines and an ambulance in an emergency
5. Exchange and study abroad student
To apply for the study abroad or exchange program, you need to have achieved an average of 65% or 2.5 grade point average (on a scale of 4 or equivalent) in your studies.
6. Appointed Education Agents
Education agents in your home country can also help you with applying to study in Australia. KBM has many Australian universities on panel. Being an education consultancy we help students from via to admissions throughout. You can check our website for detailed information or call our representative for free assessment